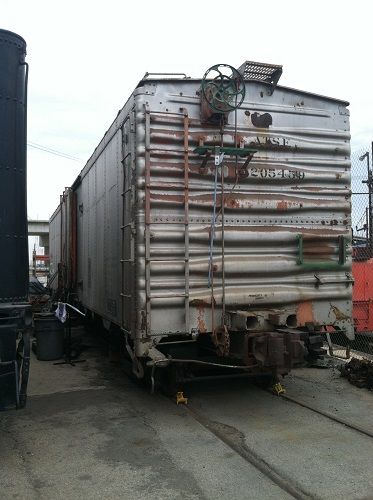 JULY WORK AT THE YARD
After laying off for the long July 4th weekend the crew resumed work the past two weeks on two big projects. First, the turret valves.   This is a repacking process to stem leaks and work will continue until all valves have been upgraded.
The next big project is the cleaning and reorganizing of the contents of the ex-Santa Fe express refrigerator car.  This car has been in a long term rebuilding process and mechanically it is ready to roll.  The car has been used for long term storage of some tools, decorations, blueprints and assorted railroad historical items.
The crew spent the past two Saturday's cleaning and sorting the car's contents.  Useful historical items were set aside for possible sale or donation and obsolete tools and materials were scrapped.  Significant space in the car was recaptured.
Future plans include securing a couple of containers to store important items and move the car off the compound by donation or sale to interested groups.  The space will then be used to begin rebuilding one of the passenger/tool cars now owned by the SBRHS.