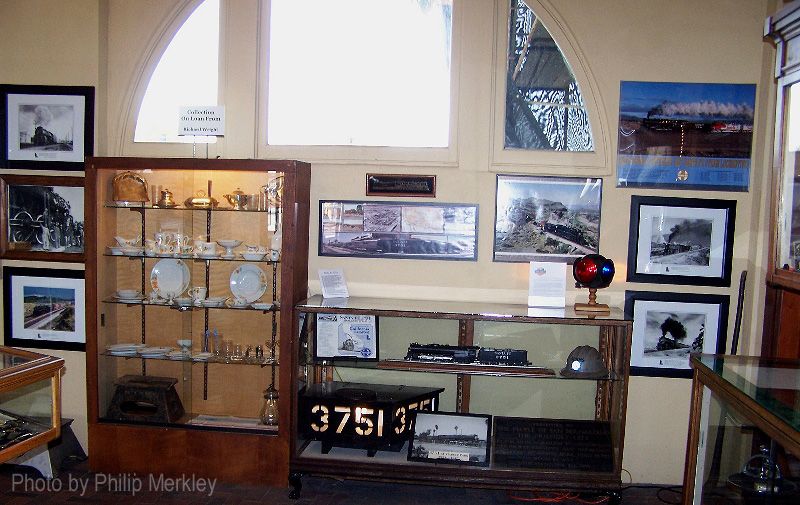 In early 2008 the San Bernardino Railroad Historical Society (SBRHS), City of San Bernardino Historical and Pioneer Society (SBHPS), and San Bernardino Associated Governments (SANBAG) entered into a joint agreement to run a volunteer Station Host Program in the historic former Santa Fe Depot in San Bernardino, California. In exchange for running this program, SANBAG leased approximately 4,765 square feet of space to the two societies for what is the San Bernardino History and Railroad Museum.
The museum site is in the former baggage area west of the waiting room. Included in the space are two rooms adjacent to the museum display area. One room is being used in part as SBRHS file space and the other has secure storage for some of our artifacts that have been transferred to this museum site. The exhibits show photographs, railroad and other historic equipment related to San Bernardino, uniforms, table ware and similar historic items that were provided by the two societies or purchased for display. The San Bernardino Museum at the Depot does not include the former Santa Fe steam locomotive No. 3751, which is stored at Redondo Junction in Los Angeles, California.
The museum was officially opened in July 2008 to commemorate the original opening of the depot in July 1918, and has been open every Saturday since. After the grand opening, more artifacts have been added and the space has expanded to about 10,000 square feet. There is a dedicated area for 3751 information as seen in the photo above.
A couple of other displays are unique and are, in themselves, worth a visit. First is a replica of a telegraph office housed in a bay window shaped space that is based on Santa Fe drawings. Second is a display of the "Kite Shaped Track" that the Santa Fe promoted in the early 20th century, based on the slogan "No scene twice seen". This display, built by Mark Landis, includes advertising from the period, a map of the route, and images of all the stations on the route in San Bernardino, Redlands, and Highland.
For additional information and photos of these exhibits and other parts of the museum, visit the San Bernardino History and Railroad Museum web site.