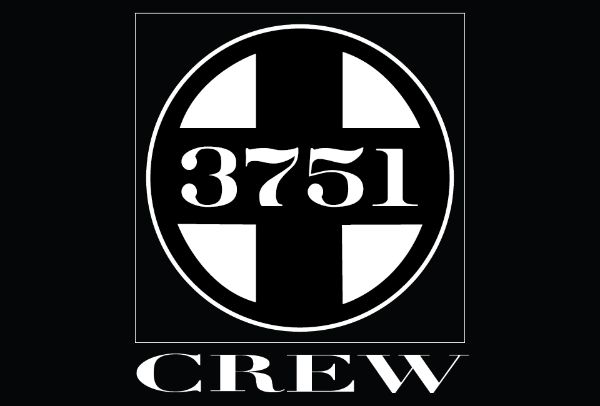 MEET THE CREW: ERIC COOK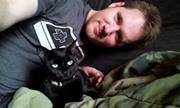 A Crew Member since 2007, Eric Cook is considered one of the "younger" group of men and women who keep 3751 alive. Growing up, Eric lived within blocks of the Pasadena subdivision. Nourished by his grandfather, father and uncle's love for the Santa Fe and model trains, Eric's passion for trains formed at a very early age.
Eric's first interaction with 3751 was when he was twelve. He was visiting his grandparents in Fontana when he heard the sound of a steam whistle in the wind. His grandfather Joseph showed him the news article about the newly restored 4-8-4 and within minutes, they were in the car and headed to the steel plant where they saw 3751 rolling out. The next weekend, young Eric was put in the cab for a short tour with George Clous and Phil Kaulk. Fifteen years later, Eric found himself once again drawn by the lure of this magnificent locomotive.
While studying rare books on steam locomotive design, construction and maintenance, Eric signed up as a Supporter and began volunteering at the "Yard" where 3751 is stored, doing whatever odd jobs were asked of him, asking questions, watching, reading and absorbing the knowledge of the crew members who were so intimately involved with the maintenance and operation of 3751. Eric's first trip as a crew member was to Fullerton in 2008. In his third year, he began learning the cold start-up procedure and how to spot-fire the locomotive (i.e. firing when the engine is 'spotted' or parked). In 2011, he had his first opportunity to "fire" out on the mainline, as trainee on the trip to San Bernardino Railroad Days. Since then, Eric has had several other opportunities to continue his training, including runs to San Bernardino Railroad Days and the epic Grand Canyon run in 2012.
While being in the cab of 3751 is the ultimate reward a hard working crew member can earn, there are many other aspects to being on the crew including: from readying the locomotive to depart from its home in Los Angeles, to safety trainings, to selling merchandise, to crowd control, to docent and overall ambassador of the SBRHS, all of which Eric has performed with eagerness, professionalism and a smile.
When asked what his favorite part of being on the crew, Eric response was the people. "First, the people I get to work with. The crew themselves are fantastic people. I admire and look up to each and every one of them. Second, the smiles we bring to people when the locomotive is out. I particularly remember going back to the yard from Union Station and there was a little boy whose mom was holding him and he waved to me. I waved back to him and his face just lit up! It reminded me of how I felt when I was a child and an engineer did the same. Connecting with people is what 3751 does and I am proud to be a part of a living, fire-breathing machine and the romance of its history."Watch Full Movie Online Streaming Online and Download
Like most of the crew, Eric is passionate about railroading, but his background and other interests are quite diverse. Professionally, he has spent the last decade as a paralegal, minus just shy a year he spent working on the Pacific Harbor Line where he earned an FRA conductor certification. He lived in New York studying composition and pipe organ from 1998-2003. He is a classically trained pianist, having first learned from his grandmother at the age of ten. In addition, Eric is a member of the Los Angeles Astronomical Society, enjoys hiking and anything to do with science, devouring books in the genre. He recently joined the Pasadena Narrow Gauge Model RR Club and has been spotted firing a certain Mogul out at the Los Angeles Live Steamers.
Eric owns a cat he affectingly named Smokey. Jet black, Smokey and his sister were feral kittens who lived with their mother in the firebox of 3751 until Bob Kittel was able to trap them so they could go to good homes, and boy did little Smokey find one with Eric. Be sure to give Eric a tip of the hat next time you see him in the Fireman's seat or out on the platform.