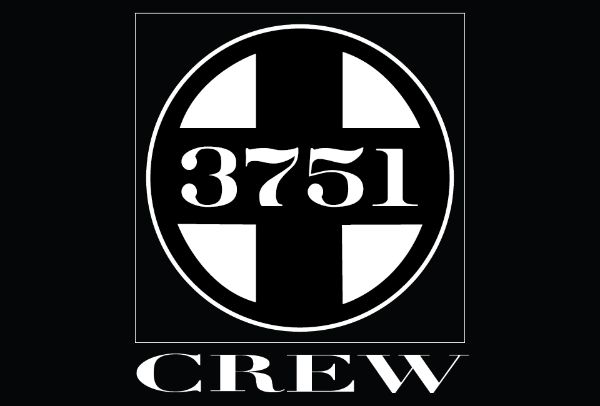 MEET THE CREW: DAN ECHETO
Dan Echeto is an original. He has been a member of the crew since the restoration in 1989. His first knowledge of 3751 was when he met Bill Plunkett at the LAUPT 50th anniversary event. A few weeks later, he visited the restoration shop in Fontana. 3751 was in many pieces then and the restoration work was only taking place on Saturdays. In Dan's words, "That visit set the hook".
When the California Limited excursion was announced, Dan knew he was going to be part of making it reality and he took a years' leave of absence from work to dedicate all his time to the restoration. Dan set up residence in the ex-Santa Fe business car 56, which was parked on a siding alongside the shop.  He lived there and worked six days a week on 3751. To Dan, who was only 27 at the time, it was kind of like running away to join the circus.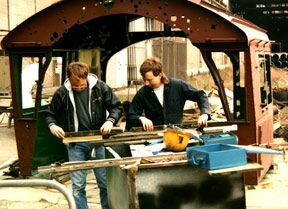 Since the restoration, Dan has been on every 3751 excursion, with the exception of two. He has worked on and been in every part of 3751 as a member of the mechanical service crew. Over the years he has done a little firing here and there and most recently was the service crew chief on the Grand Canyon Limited excursion in May 2012. His favorite moments as a crew member are answering questions about the mysteries of steam to the many fans who come out to see her. And of course, coming home safe after a long trip.
Since he has been a crew member for nearly his entire adult life, we asked Dan to share some of his favorite memories. Here's his response:
"There are so many amazing memories. One favorite was the night we tied up in Needles on the eastbound leg of the Chicago trip. The dispatcher had to fleet the traffic around us, as we were occupying one of his main tracks. I was on overnight engine watch, and we kept a spot fire going. To while away the time and keep from falling asleep, I'd walk around the engine or sit for a spell on the tender. There was a tremendous lightning storm to the east over Arizona, and it was like a war going on in the thunderheads. A trail of steam from the dynamo, and the dim lights of the cab and backhead at my feet. Then the westbounds came out of the dark at a crawl, for crew changes, one right after the other,with water from the Arizona rainstorm still cascading off the trailers. Later on the same trip, we stopped near the Topeka Shops for a while one evening. Scott Baker noted that 3751's headlight happened to be shining on the engineering building where her original specifications had been drawn up in the 1920's.
I've met too many special people to count, but I'll make note of the Santa Fe "old heads", most of whom actually ran or fired steam, who took us youngsters under their wing and passed along some of their career experiences and did their best to impart the spirit of steam railroading."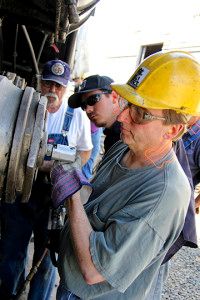 Dan grew up in Long Beach, California. He holds a degree in civil engineering from UCLA and lived and worked in various places throughout southern California before returning to his roots in Long Beach. Dan is owner of a civil/structural engineering firm, licensed as a professional engineer in California and Colorado. When he's not working on 3751, he enjoys fixing up his home and fiddling with his G-scale trains.